Nina and Brad (Float Studios), the Elysium office design team, said: "We wanted to give Elysium a separate place for meditation, so we thought about what provides the most relaxing environment." . Using lounge chairs surrounded by bonsai bathed in natural light, they created an indoor oasis meaningful to a science and technology company. "Nature is the central element of aging research, so it's natural to incorporate greenery into the workspace" Eric Marcotulli, CEO of Elysium - a start-up in life-long science, share.
Lush greenery purifies the air, reduces stress and, along with natural light, makes workers awake and happy. Providing healthy living features to nearly 50 employees is the number one priority for three months of office redesign. Given the demanding work reality, it's important for Elysium to have a meditation space where the entire staff has a place to relax and think, Eric said.
Before moving into their 600-square-foot, happy new green space in New York last fall, this nutritional supplement company was scrambled between two offices on the same floor. , making cross-departmental cooperation troublesome. Design firm Float Studio (New York) has solved that and other headaches, such as the downsides of open offices. Solutions such as soundproof curtains, semi-private semi-open desks and multiple focus areas (including four conference rooms, two phone booths) optimize space for independent work and even boiled desk meetings. floating.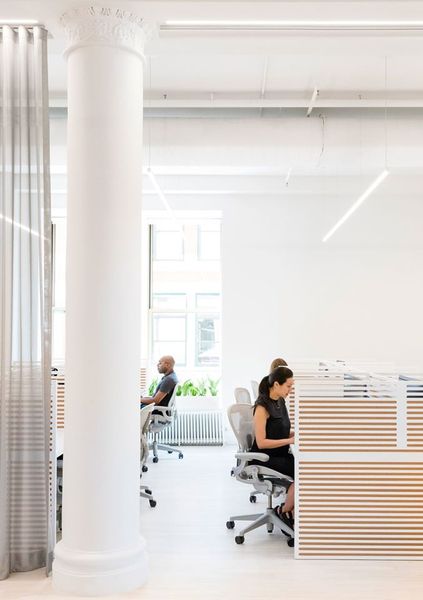 The end result is a youthful workplace with bright white color and greenery everywhere. All elements are natural: wool fabric, wick material, wood, stone, parquet. The office has a serious image of a place of scientific research, but it is vivid.
Elysium's scientific startup philosophy is the design inspiration of Float Sudio, nature's deep blue palette and traditional indigo combined with white color representing Elysium's brand story: smart, minimal, and secure. Guarantee. The highlight of the entire design is a pill-shaped terrazzo kitchen island.
The new office captures all the hearts of Elysium employees. "Nothing is not cute". Flexibility, ease of collaboration, natural light, and overall feel are just a few of the reasons Eric listed. An energetic, creative-inspiring space that makes anyone visiting always comment on how much they like it.
Even beautiful spaces can result from brain games. "We played a little visual trick," said Brad of the glass at the entrance to the office that made the LED lights seem to run continuously from the main space into the enclosed rooms.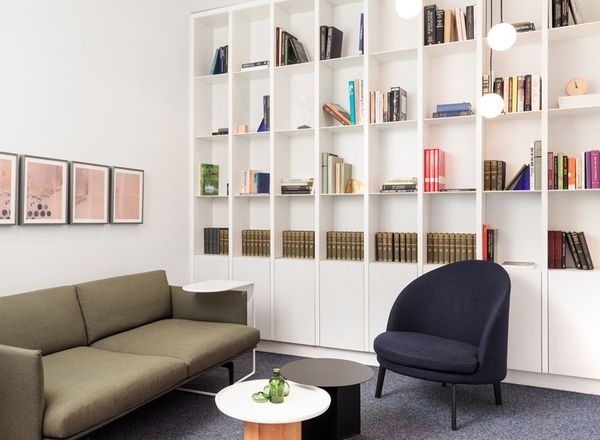 The symbolism of the product is shown delicately in the design. Elysium's core product is an anti-aging drug, so the shape of the pill can be found throughout the space: Glass, countertops, edge tables, lamps ...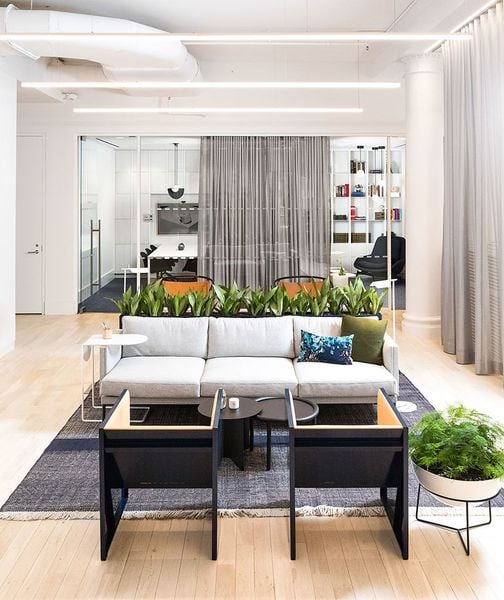 Soften cold surfaces with fabric. With floor-to-ceiling curtains, the soft fabric moves vertically, the space feels warmer. In addition, these thick curtains are highly rated for their sound absorption, so the meeting room space is very comfortable and quiet, along with privacy.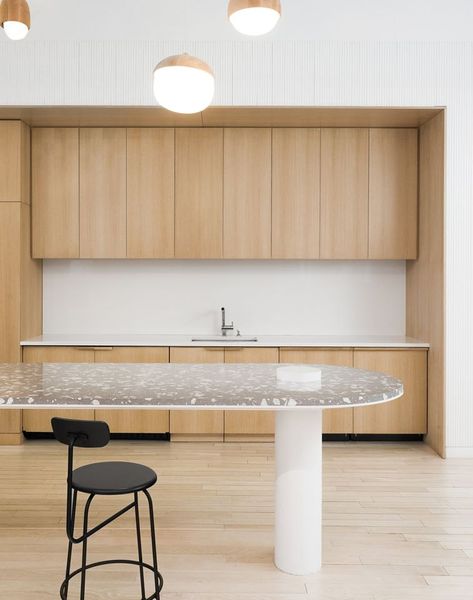 Spare common space. Very naturally, as in most homes, employees often gather at the office pantry. People eat lunch there, people who work there when they want to leave their desks, and people who hold impromptu meetings. It is the center of the office, so a design that is minimal, warm and comfortable even when there are many people is needed.