Gensler designed the Medical Technology Innovation Building at Texas A&M University at College Station, Texas.
Architecture: Gensler
Contractor: Marek Brothers Construction Inc
Photography: Peter Molick
Area: 2137 m2
Completion: 2019
Location: College Station, Texas, United States
Type of project: Education, University
The University of Texas started the project with modest expectations for shared laboratory space. However, Gensler has advanced the design to provide a modern laboratory and collaborative space, with the flexibility to adapt to all different uses without affecting budgets or schedules. submitted.
Before renovation, the windowless building was the Ocean Engineering Laboratory with a large wave pool taking up space. The Gensler design team has turned the building into an advanced research facility, complete with collaborative spaces, general wet labs, chemistry labs, 1,000 ISO6 cleanrooms, department offices, residential study area, multi-purpose gathering space and reception area.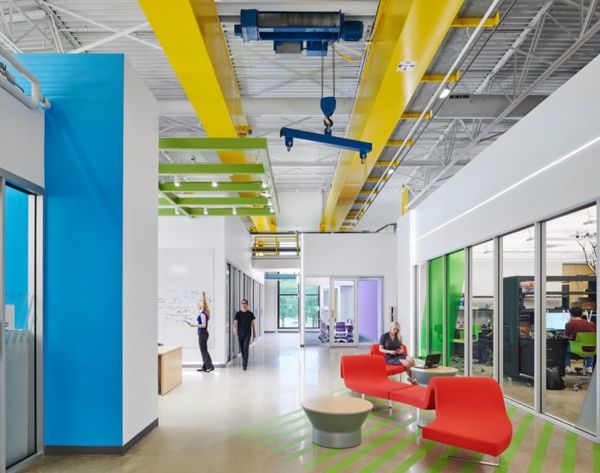 To make the 10-meter-high ceiling less feeling too high, the design team created 3m-high structures in the building. Vertical accent lights highlight the hallway and acoustic lights that run along the spine of the laboratory space. The transition space is carefully placed in the intersection area to encourage spontaneous interaction and cooperation among researchers. The windows have been perforated through the transparent building facade to bring out natural light.
The palette is adjusted to the standard of the Fish Camp brand instead of the familiar brown and white colors. Industrial-style environmental graphics act as a guide throughout the building and help power the space.
This article is translated and edited by OSOS- One-stop Office Solutions (www.osos.vn)